SportCrafters trike trainers are the only trainers in the world specifically designed for recumbent trikes. Easy to use, lightweight and portable, our trike trainers do not require any assembly or maintenance.
Here is a great video (from a customer) showing how to set it up and use it: Youtube Video
The OverDrive Trike Trainer, powered by ARC Technology, automatically adjusts in resistance as the rider changes speed – no manual adjustment necessary. In higher speeds, the OverDrive Trike Trainer will ramp up the resistance (more than the Mag version) to realistically mimic road riding conditions. This trainer is perfect for the active trike customer who wants to maintain fitness while riding indoors.
The OverDrive Trike Trainer is also perfect for families with varying skill levels. Just turn the trainer around and it automatically functions like the Mag Trike Trainer with low to moderate resistance.
NEW for 2016! Many of you who have achieved a higher level of fitness have asked for a high-power trainer with even more resistance than the OverDrive, so we are now building the Double OverDrive with TWO resistance drums. This trainer is designed for athletes seeking an intense interval-style workout.
All trike trainers work with tadpole trikes and delta trikes. If you have a two-wheel drive delta trike, or if you are not sure which trainer is perfect for your riding style, please feel free to contact us.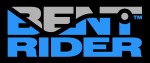 BentRiderOnline.com reviewed the OverDrive Trike Trainer.
"The best way I can describe the feeling I got when training with the new Progressive (Trike Trainer) is 'eerily realistic.' It does exactly what it claims to do."
Change the resistance level simply by changing gears
Powered by our patented ARC Technology, the OverDrive Trike Trainer delivers real-road resistance
Lightweight, compact and easy to transport and store
Accommodates 16" to 700c wheels and requires no clamping on the rear skewer
For tadpole and one-wheel drive delta trikes - use one trainer (with a block for the second wheel, if necessary).  For two-wheel drive delta trikes, we offer a pair of trainers: contact us for information.
Identified by one red cap on the rear drum (the Mag Trike Trainer has two red caps on the rear drum)
100% designed and manufactured in Granger, Indiana, USA
See the Product Manual for assembly, precautions, and care and maintenance information.
BEFORE YOU BUY be aware that you may experience slight fore-aft rocking, which is entirely dependent on how tightly you can lock your front brakes and how stiff your trike frame is.  Unlike a clamping trainer, this trainer does not lock your trike in place.  The vast majority of users don't mind the slight motion, and in fact you can use this gentle feedback to help develop a smoother cadence.
Aluminum drums:  3.25" (82.5mm) diameter, 1/8" (3mm) wall thickness
End caps:  Molded polycarbonate
Drums are lathed on the axle for precision runout and balance
All drums are dynamically spin balanced, and will not distort in heat or sunlight
Bearings are greased and sealed, and do not require maintenance
Steel framework is zinc-plated and powder coated for ultimate durability
Product dimensions:  21" x 4.25" x 10" (53.3cm x 10.8cm x 25.4cm)
Shipped dimensions:  22" x 10" x 4" (55.9cm x 25.4cm x 10.2cm), weight 7 lbs (3.2 kg)
This product contains chemicals, including Acrylonitrile, Bisphenol-A and Methylene chloride, which are known to the State of California to cause cancer and birth defects or other reproductive harm
OverDrive Trike Trainer

MR110

$211.00